Pride in Hull and Embryonic Art paint the town red… and orange and yellow and green and blue and purple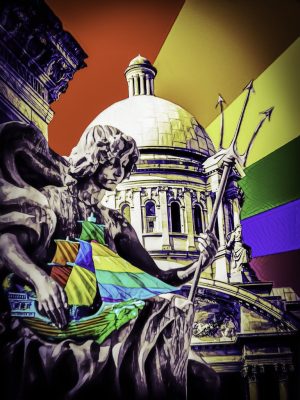 Pride in Hull has teamed up with local artists Chris Kidd and Mikey Mathieson of Embryonic Art to produce a unique image of some of Hull's most recognisable architecture. The bold print, which adds a splash of rainbow to the skyline, is a limited edition, signed and numbered run of 500 priced at £25 each.
All proceeds from sales of the print will go towards fundraising for Pride in Hull, the non-profit annual event hosted in Hull city centre to embrace equality and diversity whilst raising awareness and visibility of the LGBT+ community.
Chris Kidd from Embryonic Art said: "We wanted to get involved in Pride in Hull and this seemed like the most obvious way for us to support the event. We've had some great feedback about the print so far, we're really pleased people like it."
Heath Marsh McLeod, Trustee at Pride in Hull, said:
"We are delighted to be working with Chris and Mikey and the print they have produced is so eye-catching and embodies the spirit of Pride in Hull.
Mikey Mathieson from Embryonic Art said:
"Every year pride brings a bit of rainbow technicolour to the city, this print lets people enjoy that all year round!"
The prints are available from the Embryonic Art website: www.embryonicart.net along with a range of other Pride in Hull merchandise including t-shirts, phone cases, cushions and tote bags.
Pride in Hull takes place on Saturday 22 July beginning with a parade beginning at midday, before the main event in Queen's Gardens starting at
For more information about Pride in Hull, visit www.prideinhull.co.uk, follow us on Twitter (@PrideInHull) or Facebook (/PrideInHull) and sign up to our mailing list to ensure you get all of the latest news as soon as it's announced!