Pride in Hull pop-up shop and information hub opens on Monday 17 July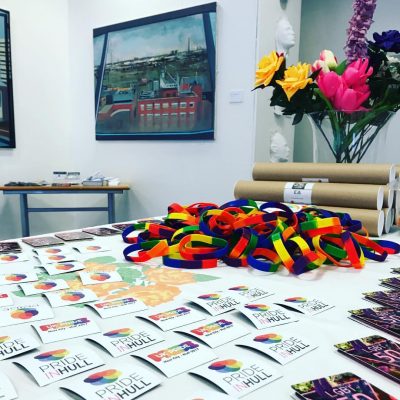 The official Pride in Hull information hub will open at 1.30pm on Monday 17 July until 5.30pm at the Brook Street Art shop in Brook Street Hull. The shop has been kindly provided by the Prospect Centre and with the agreement of Brook Street Art.
The shop will act as an information hub where anyone can find out more information about Pride in Hull, which is the first ever UK Pride, and the parade, ahead of the event itself on Saturday 22 July, along with finding out more about the full programme of events planned for the following week.
Heath Marsh-McLeod, Trustee at Pride in Hull, said:
"The Information Hub will be an opportunity for people to find out more about the event in advance. If they want to ask any questions about the events, need help booking tickets or just want to chat with us, we'd encourage them to come along and say hello."
The shop will also be selling official Pride in Hull merchandise and a whole range of rainbow emblazoned items to help people get in the Pride spirit.
Heath continued:
"We want everyone to come into the shop, it they have specific questions or if they don't know if Pride is for them, we can have a chat and let them know what it's all about. Alternatively, if they just want to find out if they can bring their kids or their dog, or whether there'll be vegetarian food available, they can pop in and ask – it's a yes to both questions, by the way!"
Following the opening on Monday, the shop will be open from 10am – 5.30pm everyday until Friday 21 July with several workshops and events to be announced via social media during the week. Pride in Hull is part of Hull UK City of Culture 2017's LGBT 50 programme, celebrating LGBT culture across the arts. It takes place on Saturday 22 July beginning with a parade beginning at midday, before the main event in Queen's Gardens starting at 2pm. For more information about Pride in Hull, visit www.prideinhull.co.uk, follow us on Twitter (@PrideInHull) or Facebook (/PrideInHull) and sign up to our mailing list to ensure you get all of the latest news as soon as it's announced!