About us
Grab a cuppa, sit down and let's get to know each other, shall we?
Hello!
If you're reading this, you probably know who we are. And if you don't… hello, wonderful to meet you!
Pride in Hull is a registered charity, run by a small but perfectly formed committee of volunteers on a not-for-profit basis. Members of the team have been involved in Pride in the city since the very first event, which was (incredibly!) almost 20 years ago.
It's been quite a journey.
2002
Where it all began! The very first Pride happened out of an urgent need for LGBT+ representation in the city. It took place in Queen's Gardens – a ramshackle bunch of a few hundred people with a really loud sound system and an awful lot of enthusiasm.
2017
In 2017, we were named the inaugural UK Pride, as well as the UK City of Culture. We celebrated LGBT50, the 50th anniversary of the decriminalisation of homosexuality, with an incredible homecoming – returning to Queens Gardens for the first time since 2003, bringing 44,000 friends with us.
2019
We built on the success of our City of Culture year in a BIG way.
We welcomed over 50,000 people to the party in 2019… (that's a fifth of the population of the entire city!)… as well as incredible upcoming LGBT+ talent and icons like Alaska 5000, Claire Richards and Melanie C (well, almost). Pride in Hull marked 50 years since the Stonewall uprising by parading an original Gilbert Baker Pride flag through the streets and volunteers carried specially designed placards marking 5 decades of LGBT+ protest.
The remit of our event is simple. We're here to celebrate the LGBT+ community with our friends and allies. We're here to celebrate diverse sexualities and genders. We're here to uplift communities. We're here to tell people that they do fit in here. And we do it with a great big massive parade, equal parts protest and party.
We're one of the biggest events in Hull and… not to brag, we're one of the biggest free Pride events in the whole country too.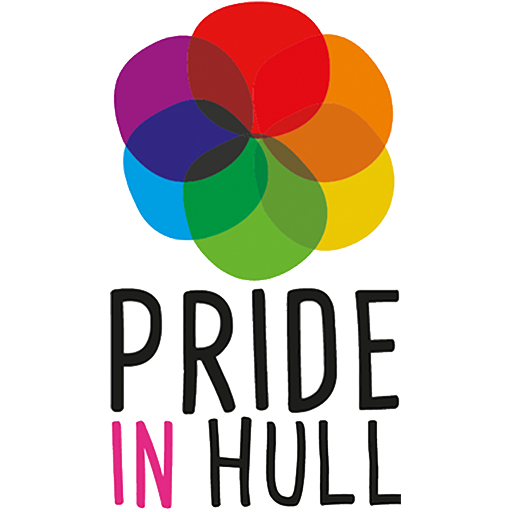 Who we are
Trustees:
Jamie Lewis (Chair)
Jamie oversees the work of the board and ensures the charity is meeting its charitable objectives, this includes health & safety, safeguarding and legal.
Heidi-Victoria Ireland (Co-Vice Chair & Finance Director)
Heidi oversees the charity's funding strategy including fundraising, accounts and sets the annual budgets
Andy Train (Co-Vice Chair – Creative Director)
Andy oversees the creative direction of the charity including how people experience our events and is the person responsible for our important annual parade.
Nathan Greenfield (Operations and Infrastructure Director)
Nathan has the responsibility for the infrastructure strategy including contracts, tenders and partnerships
Craig Moody (Volunteer Director)
Craig the responsibility for overseeing our volunteer strategy, how we support and train volunteers and resourcing across the charity.
Cat Bradshaw (Community inclusion Director)
Cat oversees how the charity engages with marginalised groups with the LGTB+ community and is responsible for how the charity runs its family and welfare provisions
Rich
Rich has oversight of the charities policy direction, ensuring the charity is up to date in policy and process and keeping the charities interest at the heart of that we do.
Amazing Team:
Cat Dowdy
Tony Bedford
Lewis Jacobs
Cashi Shenje
Jamie Strudwick
Daria Hussles
Alice Godber – Creativity Coordinator
Lydia Rangeley – Volunteer Coordinator
Want to get in touch with us? Head over to the contact page.
Pride in Hull is a non-profit charity run by volunteers. Help us keep the rainbow flag flying by donating.